I knew I had to return to Galena after spending a weekend there with C's Boy Scout troop for Grant's Pilgrimage back in March. I fell in love with the Victorian homes, the eclectic stores on the main drag, and the massive amounts of history. The town is beautiful, nestled in a valley with houses rising up the hills around the Galena River. It was the home of US President and Civil War General Ulysses S. Grant plus eight other civil war generals. But the connections to history don't end there.
We returned to Palace Campground, where we stayed with the boy scouts. Setting up camp was a challenge since the bugs drove us nuts even after spraying down with bug spray. We got the tent and the easy up set up then decided to go into town for dinner instead of trying to cook dinner over the fire as planned. It was way too hot to start a fire, and I was way too tired to cook.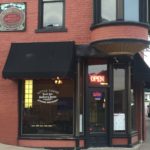 We drove into town, parked, and perused the storefronts while we looked for a place to eat. Most of the stores had closed for the day, but it gave us an idea of where we wanted to go the next day. It took us a while before we could agree on a place where everyone wanted to eat. We had nearly reached the end of the road when we came upon Little Tokyo Japanese restaurant. We finally had a unanimous decision.
Little Tokyo had an impressive menu; a mixture of sushi, noodles, teriyaki, and other Japanese dishes. K had udon with a sunny side up egg on top and the most delicately panko covered shrimp tempura I've ever tasted. C had his favorite rainbow roll and California roll while I had a salmon avocado roll and tuna nigiri sushi. After our delicious sushi, we headed back down the street to get ice cream.
Pretty much every shop and restaurant was closed by the time we left, including the ice cream shop we hoped to visit. We decided to get some custard at Culvers near the campground. Afterward, we settled into our tent and everyone crashed. Unfortunately, we started sliding while we slept. It turns out we were on a slight incline, so we all slowly slid down the floor of the tent during the night. C even wound up asleep across my feet at one point. At least he slept. I woke at the crack of dawn and had trouble falling back asleep.
By the time all three of us had woken up, it started to rain. I grabbed the bagels and cream cheese from the supplies which we ate in the tent while getting ready to return to town. Once there, we found a parking spot up on Beech right near the Galena and US Grant Museum. I was happy to find a spot that didn't have a time limit on it. This meant we could leave it there all day.
The Galena and US Grant museum is housed in an 1858 Italianate mansion that began as Daniel Barrows' home. We paid admission then were ushered into a room where the "ghosts" of Ulysses and Julia Grant told us all about Galena's history. The house is crammed with memorabilia and artifacts. It even had a real mineshaft! Surprisingly, the original painting by Thomas Nast of Lee surrendering to Grant is also there.
We found a model of Galena in one of the rooms. At first, we wondered why some buildings were detailed and others were just unfinished building shaped blocks. Turns out there was a fundraiser where people could choose a building to finance. It looks like they are all taken but now are in the process of being completed. The coolest part of this model was the working riverboat. You can use a steering helm to pilot your steamboat up and down the Galena River. C had lots of fun doing this. It was a reminder of how the steamboat contributed to Galena's success in the 19th century, making it larger and more bustling than Chicago in it's heyday.
K and I had a good giggle about Grant's left boot, on display alongside his cigar. As the story goes, General Grant changed to a pair of dry boots at the Illinois Central Railroad station while on his way to New York. He gave his boots to Edward Jeffrey, owner of the City Hotel, who put them on display. The right book was lent to a traveling theater troupe who used it in a play. The troupe left town, and took the book with them! Apparently, the right boot was never seen again. K and I wondered if a member of the theater troupe kept it as memorabilia. We imagined their descendants wondering, "Why the heck do we have this boot?? And only the right one??"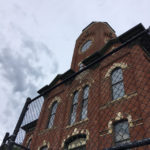 After finishing up the museum, we headed down Bench past many Victorian era buildings. K found the Art and Recreation Center a bit creepy but in a good way. She's a fan of horror video games and this location seemed perfect for one. We also found several small rocks someone painted and placed in random places along our walk. The ladybug one is my favorite.
We continued down the street, crossed the bridge, and walked over to The Belvedere. There we purchased a discount ticket for both the Belvedere and the Dowling house before being taken on the house tour. Our guides were informative and funny. I wish all tours were as lively and entertaining as this one. The furnishings in the house were exquisite as was the small garden in the side yard. After the tour, we walked down the street to Grant Park. K and I rested our feet while C played on the merry go round and swings. We headed through the park and over the bridge so we were back on Main Street. It was time for lunch!
Another walk down the street found us at the Market House Restaurant. C couldn't resist the temptation of the tomato soup and grilled cheese lunch special. We walked upstairs and were greeted by a friendly staff. K and I had delicious tuna salad sandwiches. K had hers as a half sandwich, along with soup and salad. I had mine sandwich with some tasty homemade potato chips. I was the only one not to order the tomato soup since I'm usually not a fan. K was so full she couldn't finish her soup so I decided to take a sip. It was the tastiest I've ever had and I wound up finishing her bowl! With our lunch completed, we decided to walk off our meal with a visit to the Dowling house then some shopping, with a stop for ice cream along the way.
Just up the street, we found the Dowling house. There was such juxtaposition between the posh Belvedere and the simple Dowling house. The house is the oldest in Galena, built by John Dowling in 1826, and one of the oldest stone buildings in IL. Dowling ran a trading post out of the bottom floor of the limestone house while he lived upstairs. We enjoyed the tour as the kids learned what Dowling offered in his trade post and how he and his son lived upstairs. At the end, C told them he had fun on the our which our tour guides took as a great compliment. They said most kids look bored on the tours.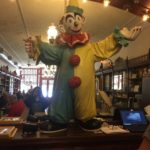 Then we went shopping. Main Street has everything; clothing, jewelry, furniture, antiques, toys, and gifts between restaurants, coffee shops, and candy stores. We had scoops of delicious Cedar Crest ice cream at American Old Fashioned Ice Cream Parlor. Later, after shopping all along the north side of the street, we took a break at Kaladi's Coffee Bar. K thought her blended matcha green tea was delicious and I cooled off with an iced caramel latte. After our rest, we headed down the south side of the street. Some of our favoriters were Poopsies (filled with toys, décor, and the most fun collection of socks) and Wild Birds Unlimited's bird feeders and bird themed décor. We spent quite a bit of time in Peace of the Past, an antique store with a wide variety of items plus a ton of books.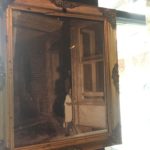 Dark ominous clouds hovered just outside of town, and around it started to drizzle at we approached dinner time. We decided not to go back and cook at camp but go out to dinner instead. We passed Vinny Vannucchi's Little Italy on the way to the car and decided to check it out. The interior was made up of several floors of seating with rough-hewn stone walls. We had a tasty meal while watching the lightning flashes out the adjacent window. Thankfully the rain had stopped by the time we headed to our car and back to the campground.
We were barely at camp for 30 minutes before another storm arrived. We decided to wait that one out with a drive down the road since we weren't comfortable sitting out the lighting in the tent. The storm lasted so long we wound up driving to Dubuque (a much shorter drive than I thought) and checking out a little of their riverside historic district before heading back across the Mississippi River and returning to camp. C thought it was funny that we spent about 3 minutes in Dubuque.
It was a rough night since there was another even worst storm in the middle of the night. We only got a few hours of sleep. In the morning, we broke camp, packed up the car and headed to breakfast at the Victory Café on Main Street. From there we drove to nearby Elizabeth to check out the Apple River Fort.
I had read there was going to be living history demonstration over the weekend at Apple River Fort. Unfortunately, when we got there, the historical re-enactment didn't seem to be going on, most likely due to the weather. The fort and interpretive center were much smaller than expected but big on history. The people were friendly and we learned quite a bit about the Black Hawk war and the struggles between settlers and local Native Americans.
I think the kids were happy it didn't take us long since they were exhausted and ready to go home. K and I are looking forward to return later this summer on our own. We had hoped to check out the ghost tours but C was a hard no on that one. I'm also hoping to check out their cemetery tours. We'll be back soon, Galena!