After a week in Georgia, we took a relatively short drive down to Orlando. Well, relatively short when you consider the miles between Chicago and Conyers. I had originally hoped to do some sightseeing on the way down to GA, at least a roadside attraction or two, but we spent the entire time on the road. The drive down to Orlando made up for that. On the way down Route 75, we passed what looked like a rocket standing by the side of the road. Further down the road, we were treated to the World's Largest Peanut in Ashford, GA. Designed by A.R Smith Jr. and erected in 1975, it's comprised of a marvelously detailed peanut sitting on a crown that reads "Georgia 1st for Peanuts."
We arrived in Orlando in the late afternoon. The original hotel we were supposed to stay in had a fire a week earlier, so we were moved to another hotel farther up International Drive. We stayed at The Point Orlando Resort just off I-Drive, and we enjoyed our stay there. Even though we have family in Orlando, we found staying at a hotel with a pool an easier way to keep the kids busy while we visit with family. Too many years of the kids getting ever increasingly bored while sitting around as grownups talk made us realize the kids need to be more active during family visits. This way the kids can play in the pool while adults sit and catch up. KJ and CT spent hours in the pool and even made friends with other kids there.
KJ and CT remember Florida:
KJ – The pool, and how we got completely sun tanned because we were in there for hours. There was a thunderstorm when were in the pool and we had to get out for a little while, that was actually pretty cool. We got to see the lightning actually strike the lighting rods. I had never seen that before.
CT – I was afraid it was a hurricane.
KJ – I remembered the pool the possibly the most because the tan got to everywhere but my eyes around where my goggles were so I was constantly reminded every day that I had spent hours in the pool because I had light rings around my eyes.
CT- You got raccoon face.
We did one theme park visit on this trip, Universal Studios. I hadn't been there since the Jaws ride was still considered a new attraction. I thought it was an awesome ride, but it's no longer there. The kids had been to Disney many times and this trip we decided to do something new. They're also older now and with one Harry Potter fan and another a roller coaster fan this would be fun. It was a hot and humid Sunday that got off to a late start. We met local friends there and set off for a day of exploring the park
The first thing I noticed was how different City Walk was since the last time I had been there. I'd spent many a night hanging out there before the kids were born but hadn't been there in about a decade. While core restaurants seemed to still be there like Pat O'Brien's, there were many new smaller stores and restaurants. There was also a new retro look mini golf course.
In the park, we started out with Shrek 4-D and Transformers: The Ride. Shrek was a fun 4-D ride where the spirit of Farquaad kidnaps Fiona. It's very much like other 4-D shows such as Honey I Shrunk the Kids, It's Tough to Be a Bug, and just about every other "Let's watch a 3-D movie while stuff sprays, pokes, and prods you" kind of attraction. Transformers: The Ride was a much more immersive ride which reminded me of The Amazing Adventures of Spiderman ride over at Islands of Adventure. There's also a cool meet and greet with Optimus Prime outside.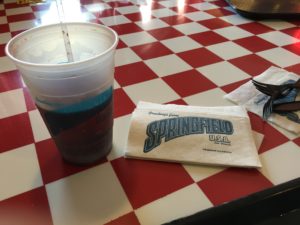 We had lunch in the Simpson's themed Fast Food Boulevard. We loved the variety of foods at different counters. It was also helpful that everyone could separate and choose the food they wanted to eat then meet at the cash register to pay for all the food at once. We got a big table together and enjoyed our meals. I really wanted some Duff Beer put it was so hot and humid I decided to have Buzz Cola and lots of water instead. We would have stopped at Moe's Tavern, but long lines meant we had to be stingy without time. The whole Simpson's areas was a fun immersion into their world. CT got to listen to character's talk to him on a payphone, and the arcade area was Crusty the Clown themed. The Simpson's ride was a bit surreal for A and I as we had loved the Back to the Future ride it replaces. The layout was still the same; just the décor and film were different. We enjoyed the new ride, though. It was lots of fun, and the movie car within the large projection dome still feels like you're really there.
We followed that up with Men in Black: Alien Attack. The kids had never seen the movie, so they weren't sure what was going to happen. It was a shooting game similar to Buzz Lightyear Astro Blasters at Disney, so they got that hang of it quickly. I enjoyed the queue with its retro World's Fair exhibit, our prompt recruiting as MIB agents, and then entering Men in Black headquarters. We then entered the cars and got to shoot aliens. We usually don't get photos when we go to the theme park, but this had all of us in one car so we couldn't resist. From there we headed to the piece de resistance, Diagon Alley!
Next up: Continuation of Universal Studios and driving back to GA.
Save
Save